Our Correspondent:
Mohali, 15 may 2019 – On the third day of International Nurse's week celebration at Mata Sahib Kaur College of Nursing "Food Mart" was organized under the guidance of Associate Professor Mrs. Nita Kumari and Assistant Professor Mrs. Jaswinder Kaur. The students of different courses like ANM, GNM, B.Sc
Nursing, Post Basic B.sc Nursing and M.sc Nursing participated in this event with great enthusiasm.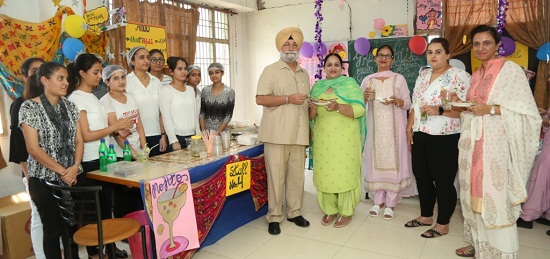 Nursing students presented their cooking skills by arranging stalls of various sumptuous food items of different states like Dahi Bhalla, Chat Papri, Grilled Sandwich, Sprout chat, Kathi roll, Garlic bread, Masala Muri and Taccos, besides this, Jaljeera, Cold Coffee, Mocktail, Lemonade, etc were also there.

Teachers of college also participated in this event by putting up their stalls of healthy and delicious snacks which were the center of attraction for everyone. While preparing all the items, the nutritive value was also kept in mind. Besides this, stall for Mehandi and Nail art were also there. The Chairman S. Charanjit Singh Walia, Managing Director Mrs.Jaswinder Kaur Walia, Director Administration S.Tegbir Singh Walia, Director  Academic Mrs. Ravneet Kaur Walia, Director Finance Ms.Japneet Kaur Walia, Principal Dr.Rajinder Kaur Dhadda, Vice Principal Mrs. Shivani Sharma enjoyed the delicacies prepared by students and teachers and encouraged them by opening their cash accounts. The management, College staff and students enjoyed every mouth-watering food items of food
mart. The Principal of college motivated the students that along with taste we should always give preference for healthy choices to keep ourselves healthy.