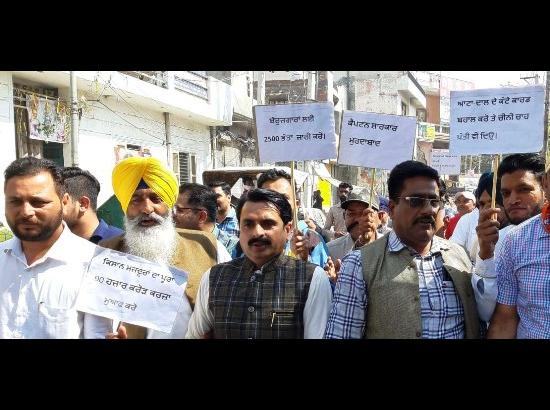 Our Correspondent
Ferozepur March 16, 2019:  BJP leaders and workers today protested against the Punjab Government led by Capt Amarinder Singh by organizing 'Vishwasghat Rally' – Betrayal Rally by not honouring the promises made before the elections.
Shouting slogans against the Capt government in Punjab and praising the Centre government led by Narender Modi, District BJP President, Davinder Bajaj, President Municipal Council Ashwani Grover, Jugraj Singh Katora, Youth Akali Dal National leader Mohinder Singh Virk, Mahila BJP leader Prof Saroj Tyagi and Vijay Anand said the Congress government has not fulfilled any of its promises made before the election and betrayed with the people of Punjab.
They said the sand mafia is active in the state and drug sale is on the higher side.  The government has not given an appointment to the unemployed and smartphones to the students. The corruption in the state is at its peak and also there is no law and order as the crime graph too is high.