By SK.Vyas
New Delhi, March 22, 2019: Mayawati led Bahujan Samaj Party (BSP) on Friday released its first list of 11 candidates for the upcoming Lok Sabha elections in Uttar Pradesh.
Kunwar Danish Ali who has recently joined BSP after leaving Janta Dal will contest from Amroha. ​
The BSP, Samajwadi Party and the Rashtriya Lok Dal have entered into an alliance in Uttar Pradesh for the April-May Lok Sabha polls.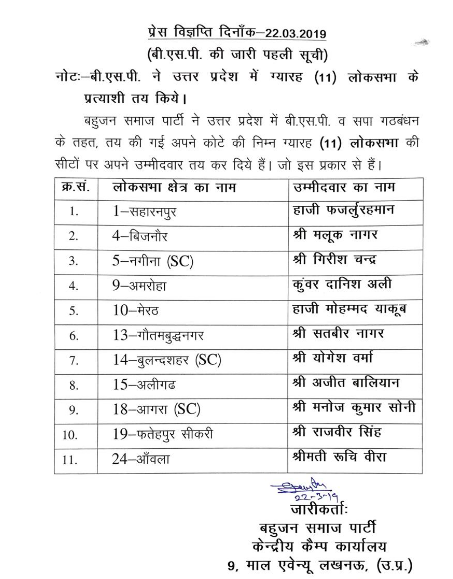 Haji Fajlur Rahman: Saharanpur
Maluk Nagar: Bijnaur
Girish Chandra: Nagina
Kunwar Danish Ali: Amroha
Haji Mohammad Yakub: Meerut
Satbir Nagar: Gautambudhnagar
Yogesh Verma: Bulandshahr
Ajit Baliyan: Aligadh
Manoj Kumar Soni: Agra
Rajvir Singh: Fatehpur Sikri
Ruchi Veera: Anola