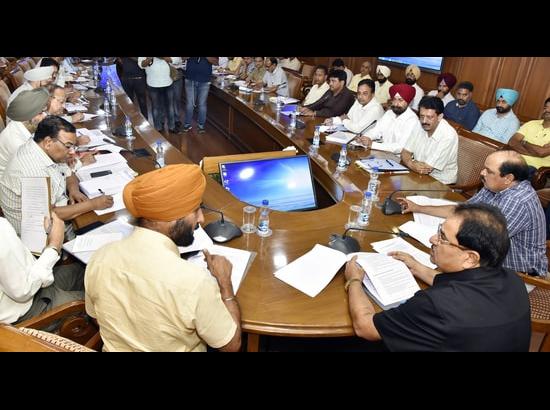 Chandigarh, July 122018 ( By TNL Bureau): Tightening the noose against bullet motorcycle riders, creating thumping sound by modifying silencers, the Punjab Environment Minister  Om Parkash Soni has strictly instructed the officials to impound such bullet motorcycles.
In a high-level meeting of the Punjab Pollution Control Board (PPCB) and Environment Department officers, Soni apprised that work for online services of pollution checking centres is on fast-track thus detail of every vehicle will be available online. Besides this, shortly vehicle owners will be informed for re-checking of Pollution Certificates week before the expiry date through SMS on their mobile phones.
Environment Minister directed the officers to make efforts to enhance air quality in urban areas by regular checking. He said that the activities of spilling out industrial residue and sewage without treatment into the water resources would not be tolerated at any cost. If any industry or municipality does not follow set norms and continues to spill out contaminated water into the river, strict action would be taken against the errant unit and concerned officer of the area. He said that responsibility of the officers should be fixed to personally check contamination on ground level. He said that immediately after assuming the charge of the office, he has asked all industrial units of the state to curb pollution within two months. Now, the time is over and for strict action against erring units. He said that if any negligence in duty would be found at any level, none would be spared. He also directed the officials to keep the regular visit to the Sewage Treatment Plants (STPs).
Soni directed that all the laboratories of the department must be functionalized to check water and air samples. He said that industrial pollution is a major problem in Ludhiana and the arrangement has been made to treat sewage up till December 31, 2018. He informed that only CNG based auto rickshaws are being registered in Amritsar, Jalandhar, Ludhiana and Patiala.
Roshan Sunkaria, Principal Secretary Environment, Kahan Singh Pannu, Chairman, Punjab Pollution Control Board, T.S. Dhaliwal, Special Secretary Environment and Pawan Garg Member Secretary, PPCB and other senior officials were present in the meeting