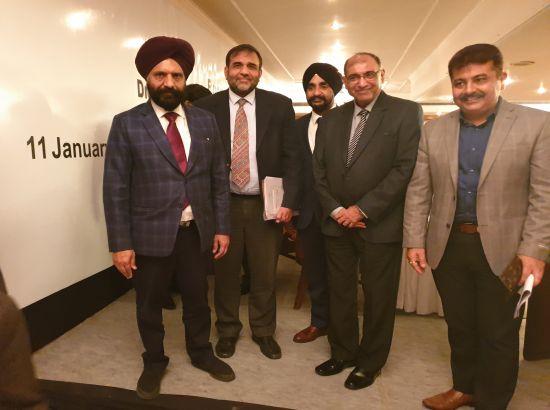 CICU delegation led by its [president Upkar Sinmgh Ahuja
Ludhiana, January 13, 2019 ( By SK.Vyas): Arranged by the Punjab government, a delegation of Ludhiana's Chamber of Industrial and Commercial Undertaking (CICU) submitted a Memorandum enlisting various issues related to the export promotion.
All the points were well taken and officers assured to resolve them on top priority, said CICU president Upkar Singh Ahuja
The delegation led by Ahuja met Anupam Wadhawan, IAS Union Secretary and other officers including Vini Mahajan, Additional Chief Secretary, Industries & Commerce, Punjab Small Industries & Export Corporation, Sanjay Chadha, Additional Secretary, Department of Commerce, B.S.Bhalla, Joint Secretary, Department of Commerce, Sunil Katiyar, Commissioner, GST & Customs, Vasundhara Sinha, Additional DGFT, Delhi,  M.S.Dhillon, ADG, DGFT,  L.B.Singhal, DC, SEZ, Noida, Kalyana Rama, CMD, CONCOR, New Delhi, Paban K.Borthakur, Chairman, APEDA, Delhi, Keku Bomi Gazder, CEO, AAI Cargo, New Delhi, T.V.Ravi, Director, Department of Commerce.
Ahuja added that the Central government has come to the rescue of Punjab exporters who are witnessing a delay in the State Goods & Services Tax (SGST) refund. Acting on the plea of Punjab exporters, Union Commerce Secretary Anupam Wadhawan today said very soon an online mechanism would be introduced which will ensure faster SGST refund on the lines of Integrated Goods & Services Tax (IGST).
Wadhawan along with state government officials, including Punjab Additional Chief Secretary Vini Mahajan, today met exporters based out of Punjab here to discuss the problems faced by them.
The move will not only reduce the burden of the taxpayers but also of taxation professionals who currently have to deal with two departments – State and Centre – separately for the refunds.
Not only in Punjab, but exporters from other states are also facing a delay in ITC refunds (also called SGST) in their respective states. The prime reason behind the delay is a shortage of funds, as cited by the tax officials.
Due to delay in refunds and the paucity of funds, many manufacturers are looking to meet their working capital requirements through private financing as they have already exhausted their bank limits.
Major issues highlighted:
·        Release of delay in duty drawback.
·        FTA with EU, Canada and the USA.
·        Incentives under Merchandising Export from India Scheme.
·        Extend benefit of rebate on state levies to fabric exporters.
·        Freight Subsidy.
·        Rate revision of International Price Reimbursement Schemes.
·        Merchandise Exports from India.
·        Collator Security Required for hedging of foreign currency should be removed.
·        Balance withholding limit on Exchange Earner's Foreign Currency Account (EEFC).
Other industry leaders who were part of the delegation included S.C. Ralhan Patron CICU, Mridula Jain Co-Patron, Ram Lubhawan, Convener Export Committee, CICU  Sarvjit Singh Co-Convener Export Committee, CICU, Rahul Ahuja, CICU and Jagtar Singh Moga, VP, CICU.