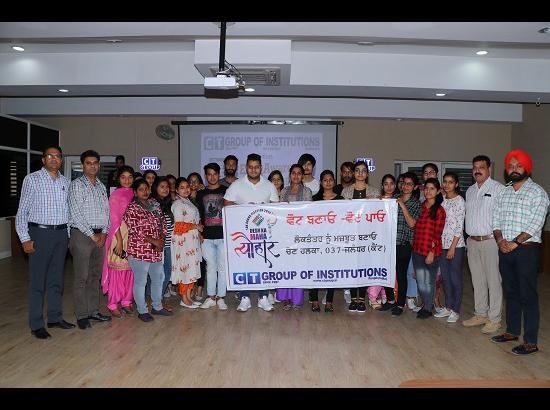 By SK.Vyas :
Jalandhar, April 08, 2019: To motivate students' especially first time voters and to educate them about importance of voting, CT Group of Institutions, Shahpur campus organized a Systematic Voters' Education and Electoral Participation (SVEEP) programme at its campus.
A seminar for voting awareness was organized, where two Nodal Officers of Cantonment constituency namely Satpal Sodhi and Tara Singh addressed the students to utilize their fundamental right of voting and selecting right candidates. They were accompanied with 2 BLOs, sanction officers and trainers. Students who are first time voters were also asked to get enrolled for being new voters.
Speaking on the occasion, Satpal Sodhi said, "People often criticize the government on various issues but it did not serve any purpose unless you go for vote. You have a responsibility to vote so that a responsible government is elected in the democratic set-up".
On this occasion, usage of Electronic Voting Machines (EVMs) was also demonstrated, and students were told about the benefits of EVMs. "These increase voter participation and clearly benefit a larger community. EVMs also reduce fraud by eliminating the opportunity of ballot tampering, as these have different levels of usability, security, efficiency and accuracy", said Sodhi.
Managing Director Manbir Singh appealed and awakened students about their voting rights and its proper and certain utilization to choose better people to be in the government. He further said, "Politics is a noble calling. By making right decision through it, we can make our areas great with good projects and better society. So, it is very important for voters to participate in large number to see a government of their choice and dreams."