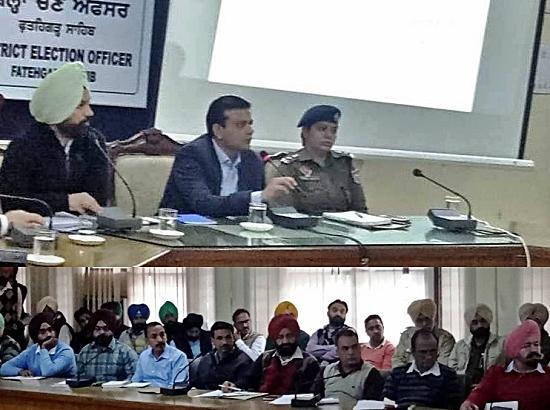 Fatehgarh Sahib.March.14, 2019: Prashant Kumar Goyal Deputy Commissioner cum District Election Officer and Amneet Kondal SSP, while addressing the heads of various committees constituted to conduct the elections in free and fair manner as well as to enforce the model code of conduct in true spirit directed them to work with dedication and carefully, any lapse on their part will not be tolerated.
DC said that to keep a close watch during elections committees like Statistical Surveillance, Video Surveillance, video viewing, expenditure monitoring, MCM. Flying squad and excise teams have been constituted. He said that the Election Commission has introduced new Android-based app called "cVIGIL", which stands for "citizens' vigil" and all the complaints received on this app must be redressed within 100 minutes. He said another Portal " MCMC" has been launched to keep a close watch on the paid news menace.
He said that election process with nominations will start from 22nd April the last date for nomination is 29th April, scrutiny will be held on 30th April and withdrawal of names by 2nd May, the polling will be held on 19th May and the counting of votes on 23rd May.
Amneet Kondal SSP said that police has made elaborate security arrangements all the vulnerable points and the trouble makers have been identified and a close watch is being kept on them. She said that force will be deployed in adequate number and no one will be allowed to take law in his own hands. She said police will ensure free and fair elections without any fear, pressure or threat.