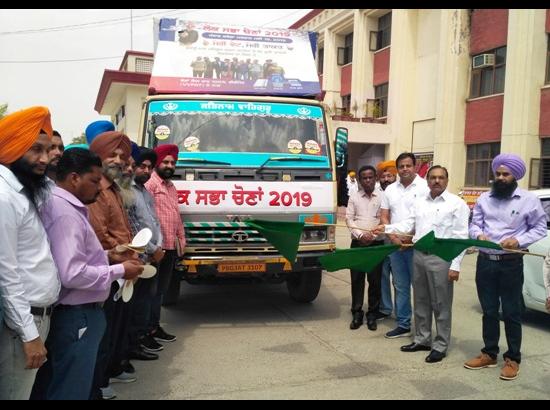 Our Correspondent :
Ferozepur, April 30, 2019: In order to make the people aware about the importance of the right to vote and to encourage them to participate in the ensuing Lok Sabha polls, the Deputy Commissioner Cum district election officer Mr. Chander Gaind and General Observer Mr. Mashir Alam today flagged off an awareness van for the district.
Divulging the details, the Deputy Commissioner said that the van would play an instrumental role in awakening the people about their voting rights. He said that the van fitted with an audio system would visit the villages and towns in the district and spread the message of ethical voting to the masses. General Observer Mr. Alam said that van was a part of Systematic Voters' Education and Electoral Participation (SVEEP) initiative of the district administration to encourage the voters to participate in the upcoming polls.
The Deputy Commissioner expressed hope that the van would act as a catalyst to make the people, especially youngsters about their voting rights. He said that this medium would be aptly utilized for generating maximum awareness amongst the masses so that they could actively participate in the ongoing democratic process. Mr. Gaind said that it was the foresight of our forefathers that we as citizens of India having voting right, whereas there are several countries where people don't have voting right and dictatorship is prevailing there. However, it is unfortunate on the part of voters, especially educated and urban society that the poll percentage always remains low in urban areas, which is also known as urban apathy.  He called upon people especially urban youngsters to come up on voting day i.e. May 19 and exercise their franchise, so that Ferozepur district could be put up in the list of top voting districts of Punjab, he said.
The Deputy Commissioner said that the van would help in sensitizing the youth to be active partners in the democratic system.
On the occasion SVEEP Coordinator Dr. Satinder Singh, Executive Engineer Mr. Birpartap Singh, DDPO Harjinder Singh and Election Tehsildar Mr. Chaand Parkash were also present.