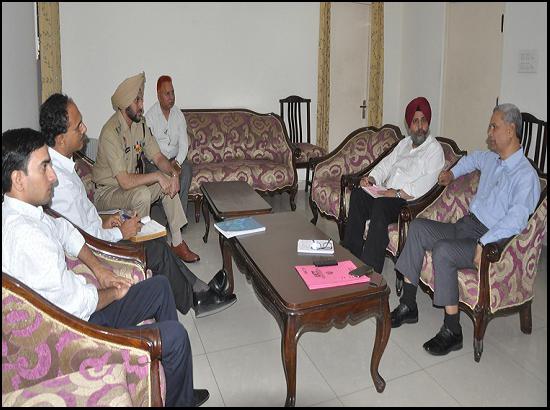 Jalandhar, 14 May 2018 (  By SK.Vyas)Deputy Commissioner Jalandhar Varinder Kumar Sharma and Senior Superintendent of Police  Gurpreet Singh Bhullar today briefed the Election observers about the arrangements made by the administration for free and fair by-poll in Shahkot assembly segment.
During a meeting with the General Observer Ravi Kant Jain and Expenditure Observer Suresh Chand Meena here at the local circuit house, both the officers said that the district administration has evolved a well-planned strategy to ensure that the by-poll conducted in Shahkot in a peaceful and transparent manner. They said that elaborate arrangements have already been put in place for ensuring that this by-election was held in a free and fair manner. They said that teams of officers have already been appointed to keep a stern vigil over the strict enforcement of Model Code of Conduct in the segment.
They also apprised the officers that Shahkot assembly segment had recently got vacant after the demise of sitting MLA Jathedar Ajit Singh Kohar, who passed away following cardiac arrest. They apprised the Observers that the seat was predominantly a rural seat with total 1.72 lakh votes. They also informed the Election Commissioner that out of it 88885voters were male and 83194 were female.
The Observers were also apprised that there were 236 polling booths in the assembly segment situated in 189 buildings. They said that out of these 189 buildings 144 were having single polling booths, 43 were having two polling booths and two were having three polling booths. They said that vulnerability mapping of Shahkot was being done to identify the sensitive and hyper-sensitive polling stations in the assembly segment. They said that an adequate number of security personnel would be deployed at these stations before the polls adding that the Police have already enhanced surveillance through the patrolling parties in wake of the poll.
On the occasion, Additional Deputy Commissioner Dr Bhupinder Pal Singh, District Guidance Counsellor  Surjit Lal and others were also present