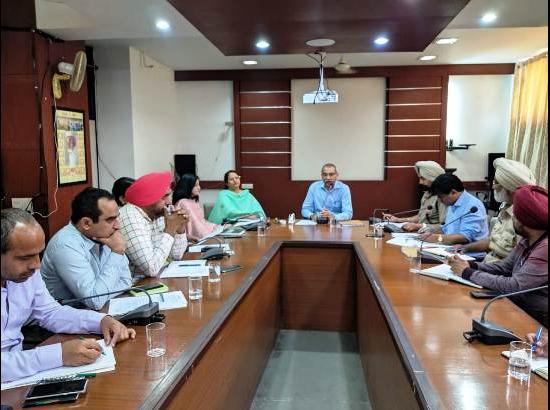 Moga administration to impart basic first aid training in Gurdwaras, Temples to save road accident victim lives
DC directs NHAI to remove bottlenecks and repair potholes on Ludhiana-Ferozepur Highway at earliest
Our Correspondent :
Moga, April 4, 2019: With an aim to save lives of road accident victims, the district administration is planning to provide basic first aid training to the people living in the radius of 500 meters from the accident black spots in the district that they can provide first aid to victims in case of an accident. Accident black spot is a place where road traffic accidents have historically been concentrated.
Divulging the details, Deputy Commissioner Sandeep Hans, who was chairing the Road Safety Committee Meeting here on Thursday, said that the Moga is among the 10 districts in the state which will get the District Road Safety Engineers (DRSE).
"Administration with the help of DRSE, who is expected to join Moga in next 10 days will locate such accident black spots in the district and will impart basic first aid training to the people living nearby including in Gurudwaras, Temples, Shops and Dhabhas that they can save the lives of road accident victims," DC Sandeep Hans said adding that the saviours will be honoured on the occasion of Republic Day or Independence Day.
He said that although the road deaths in Moga has witnessed a sharp decline in the last five years, their focus is to bring the road accident deaths to zero.
According to the information, 238 people had lost their lives in road accidents in 2015 while in 2018 the toll reduced to 176.
DC Sandeep Hans further said that street light intensity at the intersections or the areas having frequent pedestrian crossings will be doubled for more visibility to convey a signal to the driver about the busy road crossing ahead at night time.
Navdeep Asija, traffic advisor with Government of Punjab, who was also present in the meeting said that one of the streets in the city will be established into a model street from the safety and efficiency point of view to set an example that other streets can be established like it.
DC Sandeep Hans also directed officials of National Highway of India (NHAI) to repair the potholes and remove the bottlenecks from the Ludhiana-Ferozepur highway at the earliest.
Meanwhile, Additional Deputy Commissioner (ADC General) Anita Darshi, Assistant Commissioner (General) Lal Vishwas Bains, Superintendent of Police (Headquarters) Rattan Singh Brar, Sub-Divisional Magistrates (SDMs) including Gurwinder Singh Johal (Moga), Narinder Singh Dhaliwal (Dharamkot), Mandeep Kaur (Nihal Singh Wala) and Swaranjit Kaur (Baghapurana) were present in the meeting.