Sangrur, May 31, 2020 – In the view of the upcoming rainy season, district administration Sangrur has started strengthening and upgrading banks of seasonal river Ghaggar in Andana block. While divulging details, Deputy Commissioner Ghanshyam Thori said that funds of Rs. 1.10 crore have already been sanctioned for this purpose and could also disburse more funds as per requirement.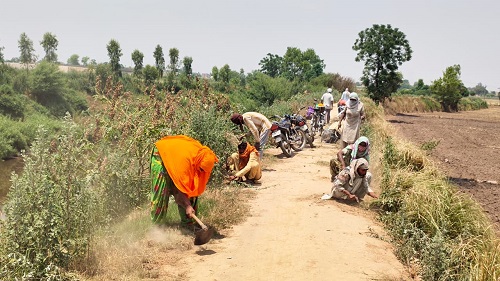 DC said that keeping view of last year's breach in Ghaggar at village Phulad, the district administration has pressed all the available options for the strengthening of banks of the river. He added that as many as 200 workers under MGNREGA have been continuously working on the banks of Ghaggar at village Makror Sahib, Phulad, Rampur Gujjran, Karail and Dhamur Ghat from last 9 days and the manpower will be doubled soon to speed up the work.
Deputy Commissioner said that all the administrative officials have been directed to complete the repair works of the seasonal and other rivulets before the start of the rainy season. He added that additional deputy commissioner (development) and DDPO will personally monitor the ongoing developments at Ghaggar and would ensure strengthening of every weak point of the banks. He said that concerned SDM will supervise the Chandu Lift Scheme. He added that the officials have also been directed to ensure availability of empty cement bags in villages which could be promptly used to plug leakage in rainy season.
Mr. Ghanshyam Thori said that apart from averting the breach in future, the ongoing development works have also ensured employment for registered job card holders during lockdown. He added that the BDPOs have also been directed to maintain the proper record of workers as they could be immediately called in any emergency.