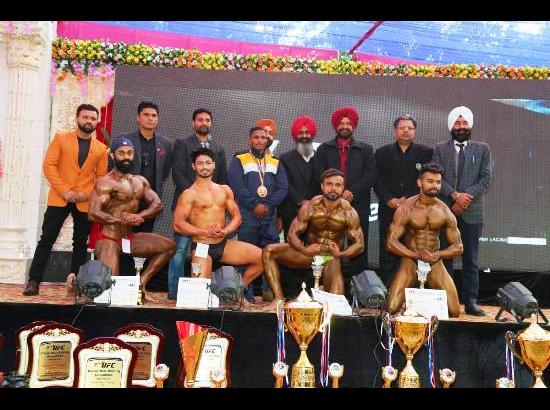 By Bureau Chief
Ferozepur February 6, 2019: Inviting young people to stay away from drug addiction and taking drugs, under the guidance of the Punjabi Amateur Body Building Association and headed by the Managing Committee President Jaswinder Singh Sandhu organized a memorable UFC Body Building Competitions.
Hundreds of body builders from all over Punjab participated in the competition.  Divisional Rail Manager, Vivek Kumar was the Chief Guest of the function.
Speaking on the occasion, DRM said, such efforts should be done to save the youth from wandering on the road.
UFC Chief Trainer and Dietician Mandeep Singh and Manwinder Singh Mani, Sarpanch said that during the various competitions, Harpreet Singh Goldi resident of Gobindgarh Mandi bagged the title of Mr. Punjab and Luvnish of Firozpur exhibited his earnest and handsome body to win as Mr. Junior.
Mukhvinder Singh Chhina Inspector General, Ferozepur Range Police, Chief Guest in the evening session, for the prize distribution ceremony, distributed prizes to the winners and invited the youths to take healthy diet, do exercises by going to the playgrounds in the morning and evening to stay physically and mentally fit.  The police department also extends various special opportunities who excel in the field of sports, he added.
Present among others on this occasion were Mandeep Kumar Monty, President Press Club, Ferozepur Anirudh Gupta, CEO DCM Group of Schools, Gaurav Bhaskar, Sukhwinder Singh ADRM, Balwant Singh, DSO Moga, Baldev Singh Bhullar Member Consumer Court, Sarabjit Singh Bedi Youth Coordinator Nehru Youth Kendra, PSEB XEN Harmel Singh Khosa, Manjit Singh Matharu, Jaswant Singh Thind President District Rural Press, Senior Congress Leader Jathedar Malkit Singh Sandhu Sarpanch Jhok Hari Har , Man Singh Barkan Sarpanch, Sukhdev Singh Sandhu, Raju Kamgar, Sukhraj Singh Bootewala, former sarpanch, and others.