'Know Your Army'- Golden Arrow Division showcased military equipment and band display
By Our Correspopndent:
Ferozepur, August 15, 2019: Golden Arrow  Division showcased the military might of Indian Army during the Weapon & Equipment display organized on 14 Aug 19 in Ferozepur Cantonment as part of 'Know Your Army' initiative on the eve of 73rd Independence Day.
A wide range of guns, tracked vehs, small arms, communication setup and other specialist equipment used by various arms of the Army were displayed, to kindle the pride and patriotic fervor amongst the youth and to motivate them to serve the nation. 'Empowerment through Awareness' was achieved, wherein a large number of school and college students, government dignitaries and local population from adjoining villages thronged the venue and enthusiastically witnessed the event. The students were excited to get a first-hand experience of weapons, and many students and youth got an opportunity to lay their hands on some of the military equipment. An information counter with detailed information regarding various entry schemes to join the Indian Army was also setup, to provide necessary guidance to the students during the display.
The audience was enthralled by the live performance by Military Band, which played and marched to the traditional martial tunes and enthused the crowd with its Majestic display. The event drew an overwhelming response from all present.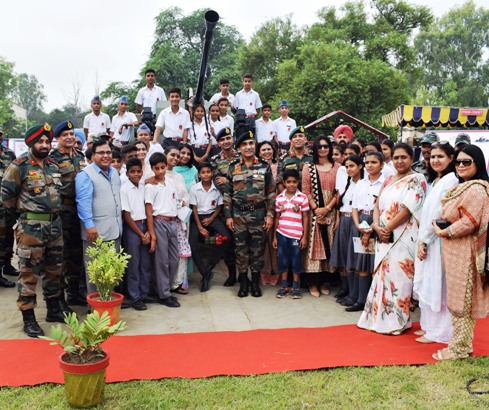 A flag hoisting ceremony was also organized on the occasion of the Independence Day at Serenity Park, Ferozepur Cantonment. The National flag was hoisted by Major General Amit Loomba, General Officer Commanding, Golden Arrow Division.  The ceremony was attended by the Civil dignitaries, Police Officials and eminent members of the local civil fraternity of Ferozepur. The Veer Naris and Gallantry Award winners were felicitated on the occasion.