Our Correspondent:
Nawanshahr, September 7, 2019 – " The school teachers have really been putting dedicated efforts to transform the education system in the state . It could easily be gauged from the zeal being exhibited by the school teachers  to convert government schools into " Smart Schools" in infrastructural facilities as well as qualitative improvement in teaching -learning process via " e.content", which  has virtually started outsmarting the private schools in the state. ", said the Education Secretary , Krishan Kumar while addressing the gathering of school teachers at the " District Level Sanmaan Samoroh" at KB Palace , Balachaur, in the SBS Nagar district today, where as many as  792 government school teachers were awarded " Appreciations Letters" for their commendable contribution.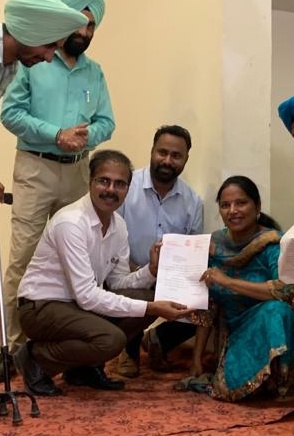 While exchanging " Teachers Day" greetings with  the teachers, the Education Secretary said that a large number of  dedicated teachers across the state had been doing a yeoman's services for bringing in qualitative change in the school education, so the Education Department had decided to recognise as well as appreciate their efforts by organising district level functions in the state.
"The school teachers were just motivated to realise their potential and they have really exerted their nerves to take the extra classes braving the extreme cold weather as well as during holidays sacrificing their family engagements. They remained in touch with their students, parents even after school hours  via social media groups and solved the examination related problems of their students, he said while underlying the need of accelerating the pace of improvement drive as well as enhancing enrollment.       " All of you have done extremely well in implementing the quality improvement drive at the cutting edge level.   The  government school students have  fared far better than the private schools both in quantity as quality which was neither a magic nor a fluke but a natural corollary of well planned as well as dedicated implementation of " Parho Punjab, Parhao Punjab" programme, aimed at bringing in qualitative improvement in education.", said Krishan Kumar while exhorting the teachers to focus more on e.content of the syllabus to make the teaching – learning process interesting easy and effective.  " It would help the teachers to realise their real worth as nation builders. They would have the contentment of serving less privileged section of the society, which has been looking towards government schools to fulfill the aspiration of providing quality education facility to their children", he further added    Jarnail Singh Kaleke, Deputy Director, SCERT, District Education Officer(SE), Harcharan Singh, District Education Officer(EE), Satinderbir Singh, Deputy District Education Officer(EE), Chhotu Ram, Amrik Singh, Principal cum coordinator of the function, Surinder Agnihotri, Parmod Bharti, Nirmal Singh, Vinay Sharma( Zila Shikhiya Sudhar Team), Principal Rajnish Kumar, District Mentor Smart Schools, Varinder Banga, Jatinder Sharma, Naresh Bhrigu, District Mentors, among others, were also present on the occasion.