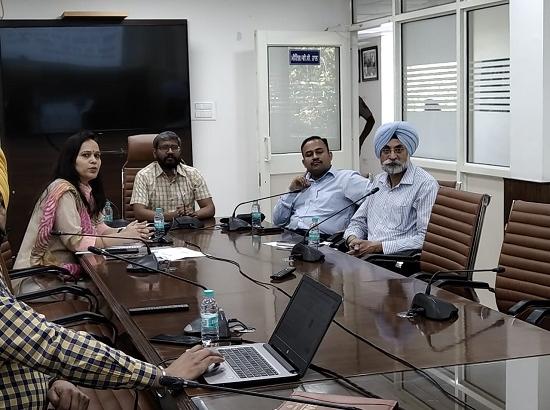 Chandigarh, April 19, 2019: The Chief Electoral Officer, Punjab Dr. S.Karuna Raju on Friday made aware the Returning Officers about the Suvidha Portal launched by the Election Commission of India through video conferencing in the light of Lok Sabha elections.
Briefing about the Suvidha Portal, Dr. Raju said that immediately after the filing of nomination by the nominee, the nominations would be uploaded on Suvidha Portal and website of CEO Punjab on realtime basis. He asked the Returning Officers to make requisite arrangements including Internet connection, manpower etc in this regard.
He said that the uploaded nomination papers could be seen at the websites of ECI, CEO Punjab, voter helpline website and Suvidha candidate app.
Giving information about Form-26 format C4 and C5, he said that the candidates with criminal background have to submit their details in Form C4 and publish the information in this regard in newspapers and television besides providing the same to the concerned Returning Officers. Whereas the political parties would provide the information of advertisements published in newspaper regarding criminal past of the candidate to the Returning Officers in form C 5 .
CEO also informed about the  expenditure  Register Dash Board and said that from the date of filing nominations till the day of polling the candidates would have to get the expenditure incurred verified from the Observer and upload the same in three times.
Dr. Raju said that after the process of filing nominations would start with the issuance of notification on April 22. He said that the Returning Officers would ensure that within the radius of 100 meter from their offices only three vehicles should be allowed with the candidates filing nominations and only four persons would be allowed to have access up to the chamber of ROs with the person filing nominations.
The CEO also clarified that if the candidate and persons accompanying the candidate are SPG protectee than 1 SPG security personnel (with concealed arm) in addition to permissible number of persons (five including candidate) for the purpose of nomination, are to be permitted to enter the ROs chambers. He also instructed the ROs to ensure the installation of CCTV cameras in the 100 meter radius of ROs offices. It should also be ensured that the requisite number of EVMs should be made available well in time for election  process. Prominent amongst those present in the meeting are Additional CEO Kavita Singh and Additional CEO Sibin C.