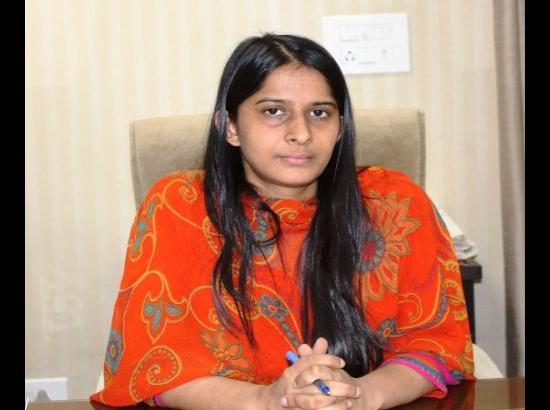 Dr Shena Agarwal, ADC (D), Ludhiana
Ludhiana/Jalandhar, September 12, 2018 ( By SK.Vyas): To promote kitchen garden concept among the city residents, the Horticulture Department Punjab has developed a special vegetable seeds kit. It is not only cheap in prices, but also contains seeds of all vegetables grown during the upcoming winter season.
This kit was launched by ADC (Development) Dr Shena Aggarwal in her office today.
On this occasion, Deputy Director Horticulture Mr Jagdev Singh, Assistant Project Officer Mr Avtar Singh and other officials were also present on the occasion.
While providing information about this kit, Dr Shena Aggarwal informed that this kit contains seeds of vegetables such as carrot, radish, turnip, peas, spinach, fenugreek, coriander, broccoli, beetroot, lettuce, sarson, etc and these can be grown easily on six marla land. She said that if these vegetables are grown in a planned manner, it can provide 400 kilograms of fresh vegetables for a family of seven. She said that with the help of this kit, residents can get vegetables for a period of six months. This kit has been prepared by the horticulture department under the Mission Tandrust Punjab of the state government.
Dr Aggarwal informed that the price of this kit has been fixed for Rs 80 so that everyone can afford it and grow fresh vegetables. She informed that along with the seeds, this kit also includes a pamphlet containing details of ways to manage these crops.
She said that in the present day, there is a need that every person stays healthy, for which they should consume a balanced diet having proteins, vitamins etc. She said that the vegetables grown using this kit are not only fresh but also free from pesticides. It also saves a cost of around Rs 5000 per person in expenses for vegetables.
Deputy Director  Jagdev Singh said that the horticulture department Punjab has sent around 3000 such kits for sale in Ludhiana district and these can be purchased from the department's main office or block level offices. He said that this particular kit is much cheaper than those available in the market.