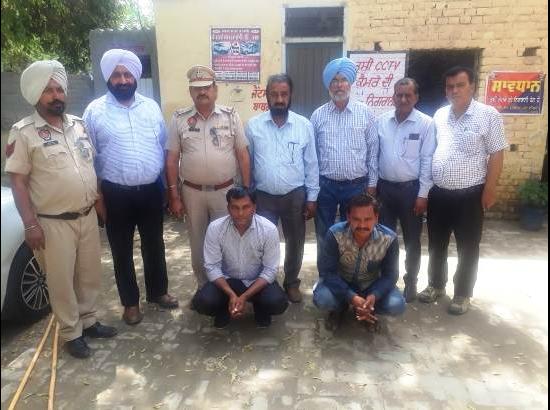 On farmers' tip-off, two Gujarat men selling spurious cottonseeds arrested
Our Special Correspondent
Fazilka April 15, 2019: Agriculture Department's campaign to sensitize farmers to sow cottonseeds recommended by Punjab Agricultural University Ludhiana today borne fruits, while two Gujarat men selling spurious and substandard cottonseeds were arrested by Abohar Police after getting tip-off from farmers of village Rajpura.
Divulging further, the Chief Agricultural Officer (CAO), Fazilka Dr. Manjit Singh said that both the persons were luring farmers to purchase spurious cottonseeds, but conscious farmers informed officials of agriculture department well in time. "Our officials comprising Assistant Plant Protection Officer (APPO)  Sarwan Kumar, Agriculture Development Officer (ADO) Vijay Singh and Agriculture Sub Inspector (AIO)  Praveen Kumar immediately reached the spot.
During inspection, both the persons could not show any official letter to sell and supply seed in the state of Punjab, after which police was roped in the matter", he said, adding that police have arrested Hitesh Kumar s/o Baldev Bhai Prajapati Bans and Chawra Dharmendra Singh s/o Vijay Singh, both resident of village Ridroli, Gandhi Nagar (Gujarat).
A case under section 420 of IPC, 7 of EC Act and various sections of Seed Control Order 1983 has been registered against them. 13 packets of spurious seeds having coming name Sevak-511 and Sevak-711, Om Hybrid Seed Company recovered from their possession.
CAO further said that complying with the instructions of Secretary Agriculture  Kahan Singh Pannu, Director Dr. Swatantar Kumar Airy and Deputy Commissioner, Fazilka Mr. Manpreet Singh Chhatwal, district farmers are being sensitized to sow only recommended crops and about preservation and harvesting of cotton crop.
He said that, "Recently a block level camp was organized in village Bahavwala and an appeal was made to farmers to inform immediately in case they found any unauthorized/Gujarati/spurious BT cotton seeds.