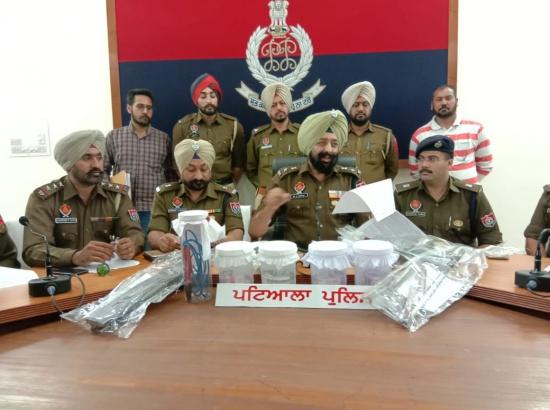 Our Correspondent
Patiala, March 22, 2019: Patiala Police has cracked another sensational blind case of 36 Lacs ATM theft that took place on March 17 in the city. The case has been solved within 5 days. Five accused have been arrested.
Mandeep Singh Sidhu PPS, S.S.P Patiala said that SBI ATM near Samania Gate was broken in which FIR No. 64 dated 17.03.2019 U/S 457,380 IPC PS Kotwali Patiala was registered. He along with the police team visited the ATM theft site. A SIT was constituted in which Harmandeep Singh Hans IPS, SP City Patiala, Harmeet Singh Hundal, SP Investigation, Yogesh Sharma, DSP City-1 Patiala, Krishan Kumar, DSP Special Branch, Patiala, Inspector Shaminder Singh and SI Sahib Singh SHO Division No. 2 Patiala were members. Different teams were constituted and tasks were given to them.
Five accused Rajinder Singh, Balwinder Singh, Dharampal, Deepak Rai and Deepak Tiwari were arrested and cash rupees 5.16 lakh were recovered from them along with tools used to cut the ATM Machine.
Rajinder Singh, the mastermind told that they have been working with CMS Info System for past many years and were aware of the working of ATM Machines.
Another accused Deepak Tiwari was shunted out of this company on November 30, 2017, but he was still in touch with Rajinder Singh and his team.
These accused have been embezzling out money from ATM machine from 2014 and they have taken out about 70 lakh rupees from various ATM machine from time to time.