Notice
: Undefined offset: 0 in
/var/www/wp-content/plugins/seo-image-optimizer/options/option-panel.php
on line
142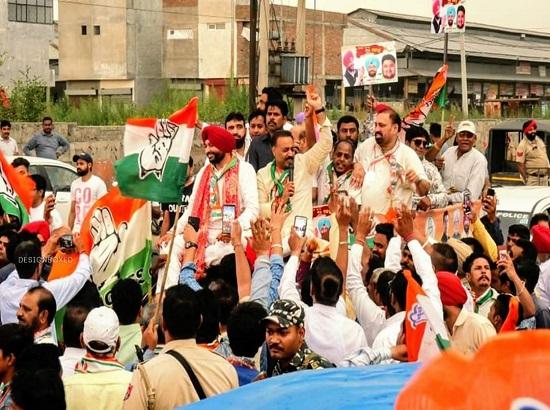 Ludhiana, May 17, 2019: A torrential rain and thundershowers failed to dampen the high spirits of Congress candidate MP Ravneet Singh Bittu and a big number of his supporters who took out a massive roadshow in the city today. A massive turnout of people in Bittu's huge road show put a seal on his victory. During the road show, Mr. Bittu appealed the people to elect him with a big margin again so that he could continue the development works for Ludhiana. The respective MLAs of the constituencies and the area councilors received the roadshow in their areas and accompanied till it crossed to other areas.
The road show started from Kailash Chowk in Ludhiana North constituency where MLA Rakesh Pandey and his son Dushyant Pandey along with a big number of their supporters accompanied Mr. Bittu. The roadshow passed through Pritam Dhaba Chowk, Domoria Pull, Kapoor Chowk, GT Road, Peeru Banda Chowk, Salem Tabri, 30 Foota Road, Jalandhar Bypass, Bhorra, Aman Nagar, Bharti Colony and in North constituency. Holding party flags and Mr. Bittu's cut-outs, people were raising slogans in his favour.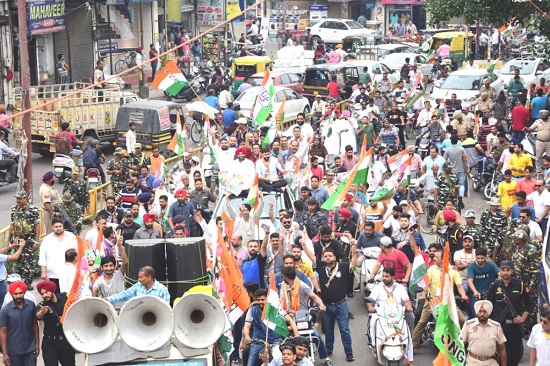 In Ludhiana East constituency, MLA Sanjay Talwar and several other Congress leaders and workers gave Mr. Bittu a rousing welcome. The roadshow passed through Bahadurke Road, Azad Nagar, Hambran Road, Noorwala Road, Kaali Sadak, Shivpuri, Kailash Nagar, Basti Jodhewal, Tibba Road, Rahon Road and Samrala Chowk. After that, the roadshow was welcomed at Transport Nagar under Central constituency represented by MLA Surinder Dawar who along with his supporters joined the massive roadshow. From there the procession reached Atam Nagar constituency and passed through Model Town, Dugri Canal, CRPF Colony, Urban Estate Phase I, Phase, II, Phase II, Urban Vihar, Janta Nagar, Gill Road. Mr. Bittu concluded his campaign on a high note on the last day of campaigning.
Other Congress leaders who participated in this road show included other party leaders including DCC (U) president Ashwani Sharma, Kamaljit Singh Karwal, Daljit Singh Grewal Bhola, Vipan Vinayak, Harjinder Pal Lalli, Dr. Naresh Uppal, Kuldeep Janda, Umesh Sharma, Rakesh Prashar, Raju Thapar, Deepak Hans, Vijay Kalsi, Navneet Ghayal, Gurdeep Singh Neetu, Jasbir Singh |Chadha, Ravinder Kaur Chadha along with a big number of their supporters.