Notice
: Undefined offset: 0 in
/var/www/wp-content/plugins/seo-image-optimizer/options/option-panel.php
on line
142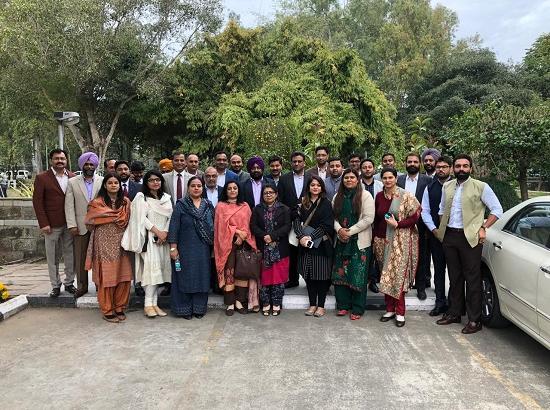 By SK.Vyas
Fatehgarh Sahib.March.14, 2019: Strong Resentment prevails among the PCS Officers against the Govt. for its failure to implement the already conceded genuine demands by the Chief Minister in the presence of Chief Secretary and Principal Secretary to CM.
Rajiv Gupta, president of the Association said that a delegation of the officers met the Chief Minister regarding their long pending demands in the presence of Chief Secretary and Principal Secretary to CM. The Association demanded that all the PCS officer during probation period should be given full pay scale on the pattern of PCS( Judicial) and PCMS and CM agreed in principle, the Association demanded that PCS officer should be posted on cadre posts like ADC(D), Excise & Taxation department, HOD/Director, adequate security PSOs for all officers, restricting of SDM offices by providing manpower and infrastructure, next scale to 90 PCS officers, who has completed 12 years of service as was done previously, providing Scorpio to SDMs and Innova vehicles to ADC(D) and speedy implementation of next pay commission and provision of adequate DA till its implementation.
He said that the worthy CM was kind enough and agreed to fulfil and implement their genuine demands, but unfortunately, no notification has been issued so far in this regard in spite of CMs intervention and assurance. He said that PCS officers perform all roles of every service, department of the State Govt. and play an important role in implementing the Government's all policies and programs. They are the eyes and ears of the Govt. and work as a bridge between Govt. and people. He said if the officers are not able to get their genuine demands accepted, how the public will believe them and it will also affect their morale.
The officers demanded that to uplift their morale and further they may work with more zeal and dedication, the Govt. should immediately issue the notification to concede their genuine demands, otherwise, the association will be forced to decide the future course of action due to non fulfilment of demands.