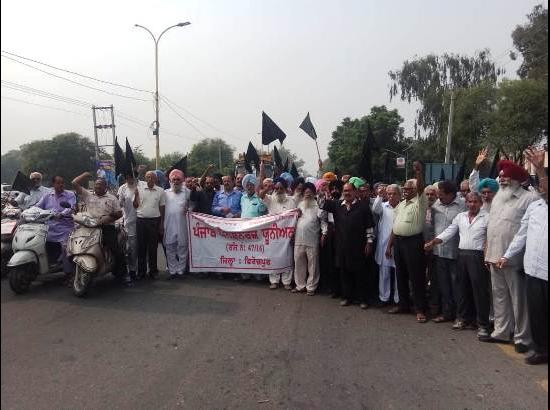 Ferozepur, October 10, 2018: The protest by wearing black dress is part of a long history and today the retired employees on pension, on a call from Punjab Government Pensioners Joint Front today hold protest throughout the state over long pending demands. A march from Shaheed Udham Singh Chowk to the Deputy Commissioner's office by wearing black outfits as a tool for complaint was also organized in Ferozepur
Addressing the protesters, Ajit Singh Sodhi, General Secretary, Master Nachhatar Singh Sr. Vice President said, the pensioners are holding protests throughout the state over the indifferent attitude of the government for not accepting a single demand.
Our main demands are – release of the arrear of DA for 22 months, DA instalments from January 2017 to July 2018, payment of pending medical bills in crores on withdrawing the medical facilities besides taking steps to control the inflation and creating job opportunities for the unemployed youths, they said.
Giving a warning to the government, they said, the pensioners will strongly oppose the Congress government during the coming elections and plans to fight for rights will be intensified.