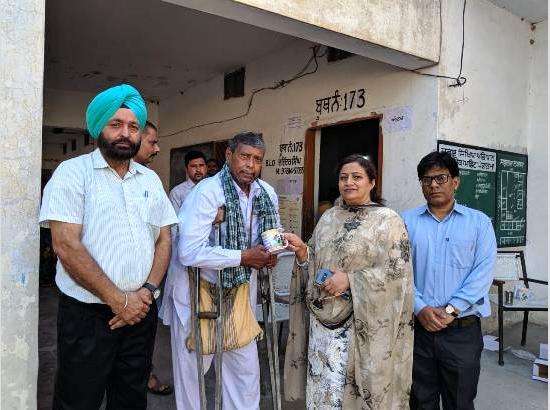 With 59.08% voting, polling ends peacefully in Moga
Deputy Commissioner Sandeep Hans flags-off special bus to facilitate senior citizens to cast their votes
Deputy Commissioner Sandeep Hans thanks electors for coming out to exercise their franchise
MOGA, May 19, 2019: Polling for the Faridkot parliamentary constituency in the Moga district on Sunday ended peacefully with 59.08% of the total 7.48 lakh voters in the district turned out to exercise their franchise amidst elaborate arrangements made by the district administration.
In the four assembly constituencies of the district, Dharamkot remained at the top with highest polling percentage— 63.17%, followed by Baghapurana (61.49%) and Moga (56.97%) while Nihal Singh Wala witnessed 54.72% polling.
Divulging the details, Deputy Commissioner Sandeep Hans said that voting at all 773 polling booths, equipped with voter-verified paper audit trail (VVPAT) machines passed off peacefully. He profusely thanked the electors who came out in a big way to exercise their franchise despite the scorching heat.
He said that electors smoothly cast their votes under high-security force deployed to ensure peaceful environment and to avoid any untoward incident at the polling booths. However, few minor scuffles, which were reported in the district were averted by the security forces deployed at the polling stations.
The Deputy Commissioner said that the EVMs and VVPAT machines collected from the polling parties would be dispatched to counting centre established at the Industrial Training Institute (ITI) Moga, where counting of votes is to be done on May 23, amidst tight security. EVMs-VVPATs to be taken to the strong room in vehicles equipped with Global Positioning System (GPS) devices.
Meanwhile, Deputy Commissioner Moga Sandeep Hans also flagged-off a special bus from the District Administrative Complex to facilitate the senior citizens that they can cast their votes at their concerned polling booths without any hassle. Similarly, Additional Deputy Commissioner (general) Anita Darshi along with Assistant Commissioner General Lal Vishwas Bains and Systematic Voters' Education and Electoral Participation Program (SVEEP) district nodal officer Balwinder Singh also flagged off similar buses to facilitate People with Disability (PWD) voters and Third Genders.
The district administration has also given certificates and gifts to the first-time voters for their encouragement. Similarly, gifts were also given to the Senior Citizens, PWD voters and Third genders.