Ferozepur police bust gang of looters within 72 hrs; cash, arms, vehicles seized
Ferozepur, February 20, 2020:  Within 72 hrs of the loot incident, the Ferozepur police have arrested four members of a six-member which gang looted Rs,13,47,810 recovering stolen stuff including cash and illegal weapons from their possession, said SSP Ferozepur, Bhupinder Singh.
Divulging with more details, SSP said, the four arrested are Nishan Singh, Akash Singh, Satnam Singh of Ugo Ke, Denial alias Lot of Sodhi Nagar while two Sagar of Ugo Ke and Gurmukh alias Gogi of Sodhi Nagar are yet to be nabbed for which the hunt is on.
He said, all these accused are closely related to each other and had planned in connivance with Nishan Singh – an employee of RBH Financer Limited, who had come on foot, to deposit Rs.13,87,810, in the black kit bag, in the HDFC Bank at around 11.40 am on February 17.
Against the snatching of Rs.13,87,810, the cash recovery made is of Rs.13,47,000 but the gold purchased by the accused for the remaining amount has also been recovered along with one air gun and three motorcycles used to give practical shape to the loot, he added.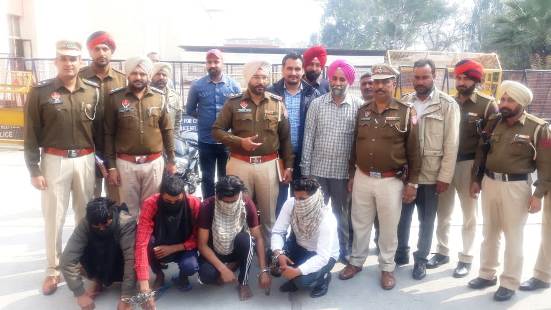 SSP gave credit to his team headed by Ajay Singh SP(D), Baljit Singh Sidhu, SP(I), DSP, SHO, Zira Makhu, Mallanwala and Incharge CIA Ferozepur, who worked intensively working later hours, after getting technical support of  CCTV footages of the route of 10-15 km of the looters to clear the pictures of the accused.
Earlier also the police during an ongoing campaign against anti-social elements have busted a looters gang, with the arrest of four persons, who took away the locked safe containing cash of he bank after taking inspiration from the Fast and Furious movie style.